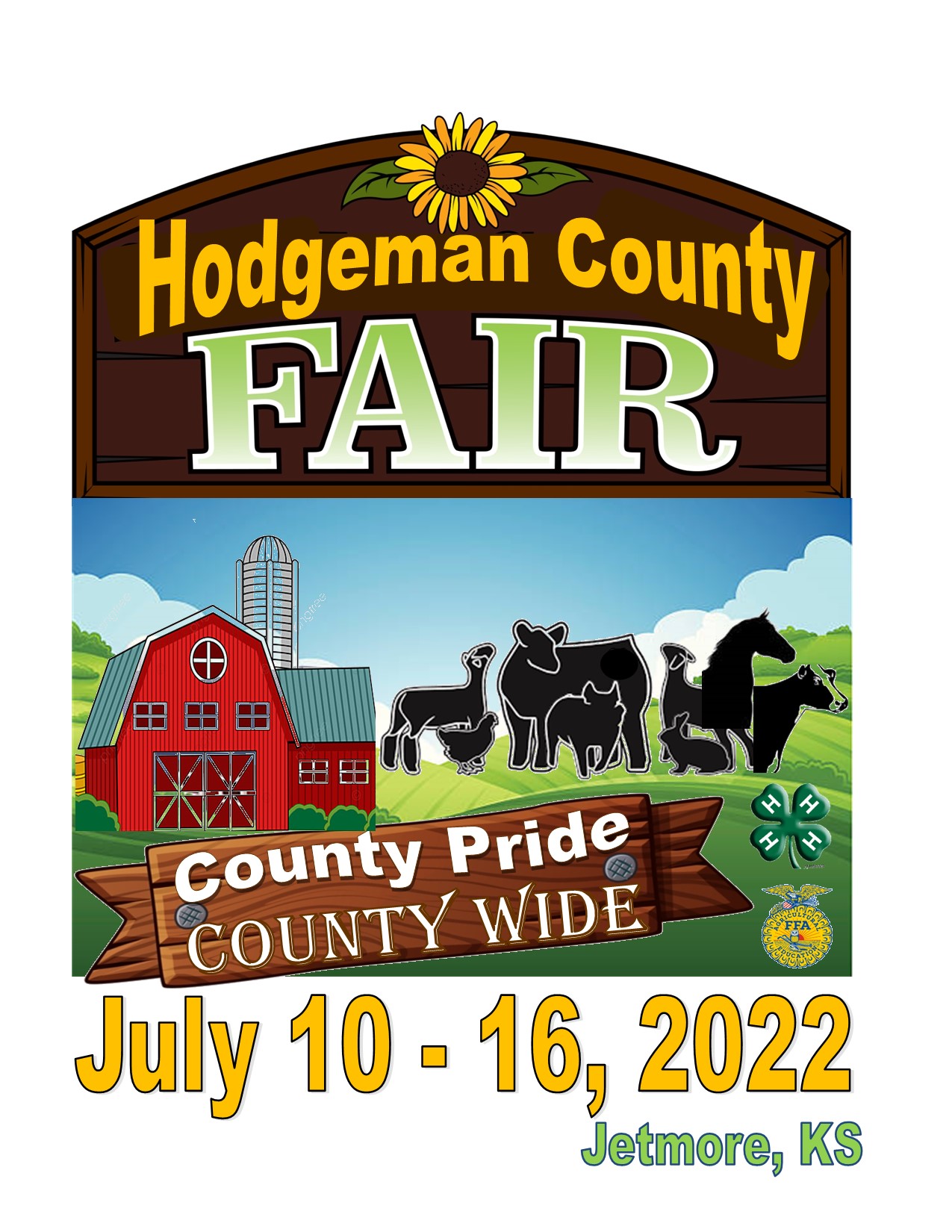 How to Enter 4-H & Open Class Fair Entries
The 2022 Hodgeman County Fair will be held on July 10th to the 16th. There are many changes this year, besides the dates. Sunday, the 10th we will kick off the Fair with Barry Ward leading Cowboy Church at 9:45 am at the 4-H Building. Following that there will be a pot luck brunch. Everyone bring their favorite dish to share. Dinner ware will be provided as well as tea and water.
The Promise Keepers will be sponsoring a hamburger feed at 5 pm. The Christian concert with Barry Ward, will follow at 7 pm. Theta Pi will be having an Ice Cream Social during the concert.
Check the schedule for all the new events. You can find the schedule at: https://www.hodgeman.k-state.edu/county-fair/2022.FairSchedule.2pgs.pdf
A quick summary of the new events include: a County Fair Princess Pageant, a Corn Hole Tournament, a Medallion Hunt, and last but not least is the Cow Patty Bingo (a fund raiser for a furnace for the new bathrooms.)
We now have an online entry process. Here is the entry link for the FairEntry program: http://hodgeman-county.fairentry.com/
You will need to set up an account to get on.
When entering, it works best to right click on the hyperlink and Open in a Separate Tab. That allows you to just click on your entries rather than using the back and forward buttons. It will save time and frustration,
It will help to look at the new 4-H Fair Book before entering. The 4-H Fair books are available online at https://www.hodgeman.k-state.edu/county-fair/2022.4HDiv.Fairbook.Web.Not.Book.pdf or are available hard copy at the Extension Office. Just a point, open class has a separate fair book, online at https://www.hodgeman.k-state.edu/county-fair/2022%20Open%20Class%20Fair%20Book.Web.Not.Book.pdf or available at several locations including the Extension Office.
If you cannot figure it out bring your entries to the fair and we will enter them there.
Again, check the schedule for new times.